Custom make Product
1. All our product is custom make product, so after order need to take some time for producing.
2. For Rubber Stamp & Name tag Catagory, minimum 48 Hours;
3. For Name Card, minimum 7 Days;
4. For Bill Book, minimum 14 Days;
5. For Examples, Ali orders a Rubber stamp on 10 May 2019, 12 May our company send out his order, and 13-15 May Ali will receive his order.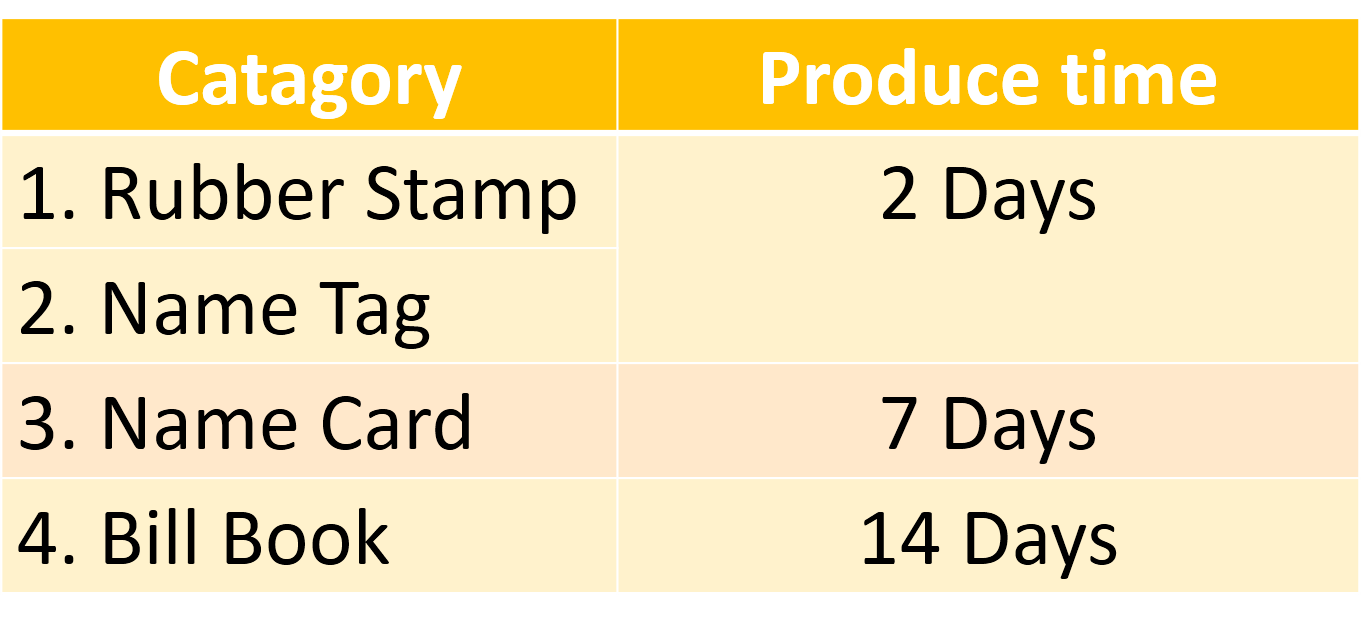 About Shipping
1. We use third-party Courier Company as our shipping method, Gdex is our first choosen but not necessary.
2. Normally Shipping will take around 3 working days. but we will not guarantee for the Shipping Period, but if didn't receive it within 1 week please kindly contact to us.
3. We will change any Courier Company without notice if needed.
4. Extra charge for specific Courier Company requested.
5. We can reject for Specific Courier Company Requested.
6. We will not follow up the shipping status if the delivery changed to your specific courier.
7. For East Malaysia will take more time for delivery.
8. Public Holiday all the shipment will be delay.
9. The shipping details depends on third party Courier Tracking Number.
Free Shipping
1. Free Shipping only supported for specific catagory such as: Rubber Stamp, Name Card, Key Chain, Name tag, Tudung Tag.
2. Free Shipping for West Malaysia is RM50 above, East Malaysia is RM120 above.
3. Customer are not allow to change Courier Company for Free Shipping. But our company have the right to change Courier Company if need.
Shipping Fees
Example 1: Ali total purchase 4.9kg products on our store and send to Johor(West Malaysia).
Shipping fees = RM7.50 + RM2.50 + RM2.50 + RM2.50 + RM2.50 = RM17.50
Example 2: Sham total purchase 2.3kg products on our store and send to Labuan(East Malaysia).
Shipping fees = RM10.50 + RM2.50 + RM2.50 = RM15.50